Project Description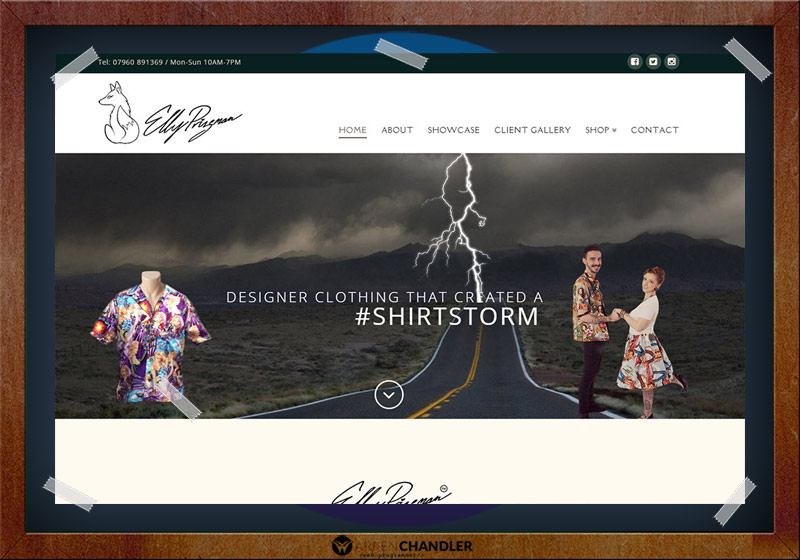 Warren says…
A Wonderfully Unique Client
Elly Prizeman was and still is a woman on a mission. Maybe not the sort of mission that Rosetta scientist Matt Taylor was working on prior to wearing one of her head-turning shirts on TV, but a mission nonetheless. That mission for many will go down in history, and I'm not even talking about comets in this instance.
While the scientific community should have been unanimously applauding Dr Taylor's contribution to human advancement after witnessing the Philae landing craft's incredible journey, the talk on social networks was focused primarily on one thing. A shirt.
Dr. Taylor's shirt, carefully created by the talented seamstress caused something of an uproar to put it mildly, and the Twitter #shirtstorm was born. It appears that to the world today, one of Elly's creations and Dr Taylor's sense of style is apparently far more important than visiting the surface of a comet. Yup. It really is. In all honesty there's no wonder humanity is trying to land elsewhere if this is the future on earth that we have to look forward to. But I digress…
The issue here is that both Elly and Matt have their own flamboyant sense of style, and neither has been afraid to flaunt it. Elly's creations are unique, eye-catching and fundamentally works of art constructed from fabric. As a designer she's a visionary and should be recognised as such. Shirtstorm may have been an emotional rollercoaster for them both, but it's also given prominence to a very talented and gutsy business woman. And I'm glad it did.
It was that business woman that came to me looking for a website to sell her clothing, and I was more than happy to oblige. As clients go she was simply fantastic. She set out her guidelines for a clean and function website, gave me a colour scheme to work with and some images, and then trusted in my experience to get it done. A few weeks later, EllyPrizeman.com launched.
I can safely say that as a client, a woman, and a clothing manufacturer you won't get much better than Elly Prizeman. She's truly one of a kind.
Warren was recommended to me by a mutual friend as a web developer. We discussed my requirements fully before going ahead with anything and he put together a package for me that met all my needs. I never felt pushed or pressured and the whole thing from start to finish was stress free and supportive.

The website when completed completely surpassed all my expectations and I am totally thrilled. Any tweaks and edits that were needed were minimal and done quickly.
Warren continues to support me when I need things updated and changed and there is no waiting around for days to get things sorted.

A completely brilliant and professional service that I am so happy I went with. There is so much choice in this field and it's confusing about who the 'right' person to go with is. I am glad I found Warren so early on in my search and would never use anyone else! Very skilled and clever guy who I can't recommend enough!