Project Description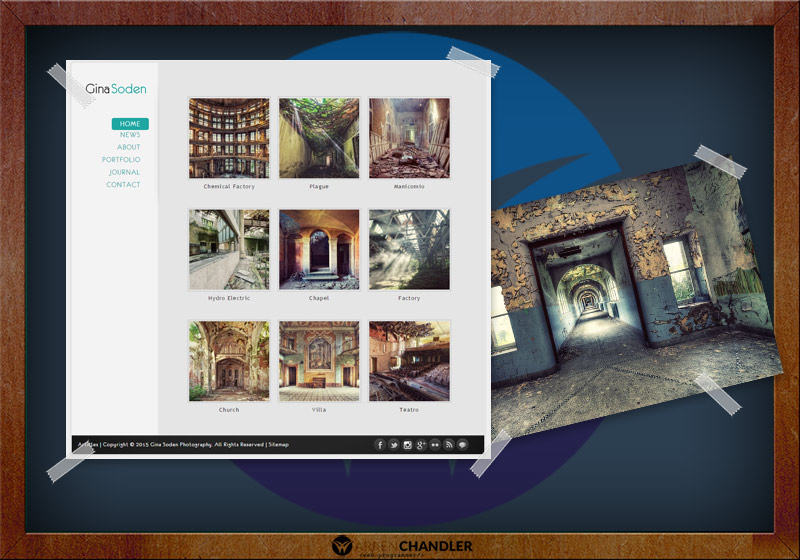 Warren says…
Redefining Where Photography Meets Art
I've worked with Gina on a few projects now and over this period of time I've seen her flourish into one of the most talented photographer artists worldwide.
Gina can often be found in the most obscure places across Europe, and her art depicts the most incredible observations of decay you're ever likely to see, with stunning pieces showcasing the likes of derelict asylums, abandoned schools, decaying castles, and long forgotten churches.
How she finds these places is beyond me, but how she turns them into a stunning form of art, well, I don't even think that's something I could ever really understand. Gina's eye for places or objects that have decayed over the passage of time is quite breathtaking, and often brings a new sense of life to the subject. It's truly like an art-based time machine. One second you can imagine the frame bustling with people and vibrant life, and the next you see only the effects of father time.
I'll let her images speak for themselves, but what I can say is that the journey of working with Gina has been anything but a decaying process. Our working relationship has always been pleasant and enjoyable for me, and I've enjoyed seeing her career taking off. She's a wonderful woman, a talented artist and deserves nothing but success.
Warren has built two of my websites from scratch and each time the experience has been brilliant. It is so easy to work with him and he makes the whole process simple and offers a great variety of options. Anything is possible with Warren.

My first website was more SEO orientated, and it delivered the results I wanted, and quickly. Many enquiries came in and it really helped me to build my business. The second site was more for display purposes, simply but effective. While each had their own purpose, Warren made sure they both functioned exactly how they were intended to.? He was also great at suggesting changes for the overall look and design of the website, and his explanations weren't just technologically/SEO orientated?.?

Being a visual artist, I'm always wanting a few small changes here and there, and Warren is always on hand to do them for me, I'm never left waiting. ?

All I can say is Warren is extremely skilled at what he does, and always very friendly and professional. I will continue to use his services for many years to come.