Project Description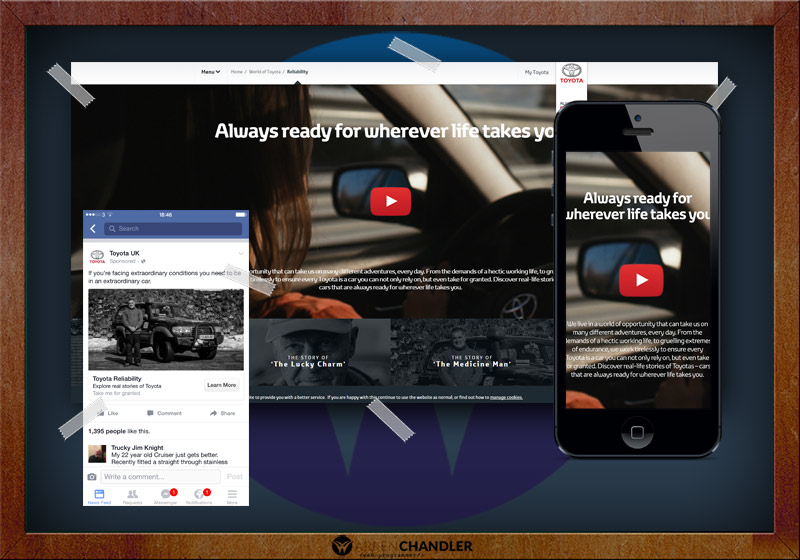 Warren says…
Reliable is my middle name
Despite having worked with Toyota UK previously, I'd be lying if I said I was expecting another call.  Firms such as these don't often show loyalty with marketing and technology, so it was a wonderful feeling that they had come back for more, asking me to manage their Toyota Reliability hub.
This time around they needed a simple addition to their World of Toyota hub to address the public's perception that their vehicles are unreliable, and a new direction that was much more personal than previous work.  After numerous brainstorming sessions we agreed upon some case studies and videos that told personal stories, and recently combined it with paid social media campaigns to engage their target audience.
It's still early days where results can be quantified, but results thus far have been far better than anticipated.  Of course, I still can't anticipate another call from the company, but I hope this is the beginning of a solid working relationship with them that lasts for many years to come.
Toyota UK says…
Our marketing team were looking for external marketing that offered something that 'little-bit-different' and returned to Warren for a proposal – his previous work for us having been of a very high standard. Warren's new brief was direct and concise as before: delivering a more personal approach than we had previously. It's too early to speak of tangible results, but the social response so far has been much better than our team had forecast.

Warren is a pleasure to work and I would have no hesitation in recommending him: he's a marketing guru if there ever was one. Thanks Warren and all the best!