Project Description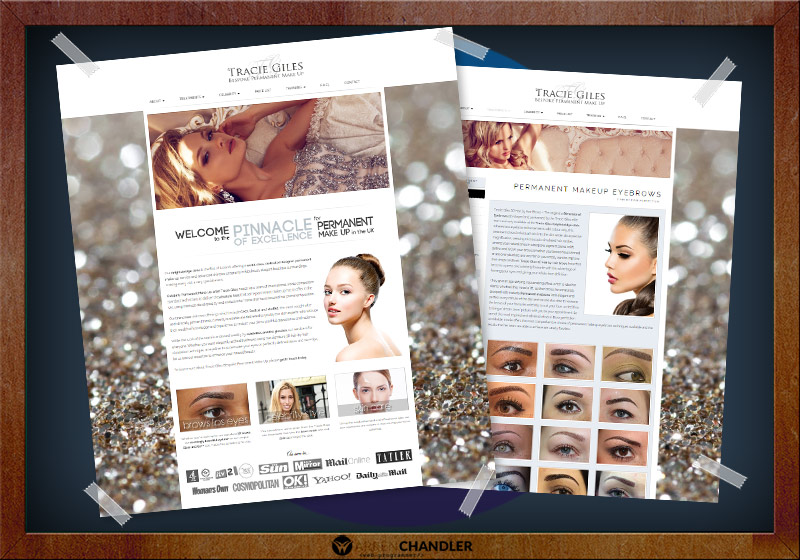 Warren says…
The Queen of Celebrity Permanent Make Up
I've worked with Tracie Giles and her daughter Charlotte since 2007 developing their web presence, Internet marketing, and most recently managing the reputation of the Tracie Giles brand online.
Tracie Giles, in case you're unfamiliar, is at the very top of the tree in the permanent make up industry and for good reason.  Even if you ignore the outstanding quality of her permanent make up services; when you combine an incredible work ethic, a tireless drive to be the best, and an integrity and honesty that is sadly lacking in many people today, there's no wonder she's at the very top of the pile.   These characteristics and many more have made my working relationship with Tracie something I hold dearly.
Similarly, in her daughter Charlotte, Tracie has her heir apparent.  Sharing the same qualities as her mother, yet forging her own unique path through the beauty industry, it was fantastic working with her on the new website.  In fact, and here's something that may surprise you, the Tracie Giles website was entirely her own design (with a little input from Tracie of course).  We built it piece by piece from the ground up – certainly a new experience for me, I can tell you.
Of course, when you're at the top of your industry you're there to be shot at and it's inevitable that people will attempt to destroy your reputation.  With that in mind we've worked together recently managing the brand reputation online and upgrading web security across the board.  It's sad the world can be this way, but when you're as good as Tracie and Charlotte are, it's not really any surprise that envy is the most dominant trait in the following pack.
Tracie says…
We have worked with Warren for many years utilising his web design, programming, SEO and more recently his reputation management services. We wouldn't hesitate to recommend him; he is simply the very best at what he does. You'll be hard pushed to find anyone more friendly and easy to work with, and he always has our best interests at heart.