Finding a web developer that's able to turn the web design concept that's in your head into a reality can be a great source of frustration – after all, we're not all like minded and on the same page – and working through line after line of HTML and CSS is not everyone's cup of tea.
Historically there have been a number of website building tools that try to bring the casual user into the web design industry, allowing the user to get creative and bridging the gap so to speak, but none of them has really stood up to the acid test – most falling short due to technical limitations, lacking in areas such as design flexibility. Ultimately it has always been the case that the only way to bring your exact concept to life was to hire a web designer.
Those days however are numbered if Google's latest offering lives up to the hype surrounding it. Ladies and Gentlemen, Google Web Designer is almost upon us.
What is Google Web Designer?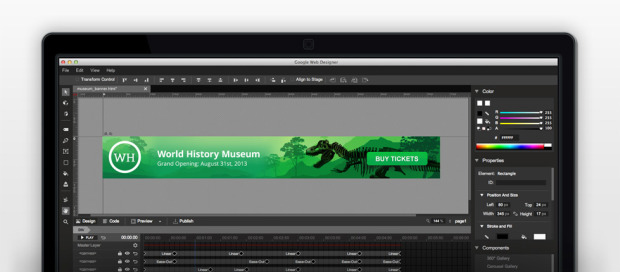 According to the official blurb Google Web Designer allows you to:
Create both engaging and interactive HTML5-based designs and motion graphics that can run on any platform, desktop, tablet or mobile, seemlessly.
Focus on what you love to do: creating gorgeous visual experiences. A full design suite lets you easily bring any vision to life. Web designer handles the HTML5 and CSS3 for you.
Learn to code. All of the code behind your designs is hand-editable, so you're never locked out of your own work. Your ideas are now amplified by code – not restricted by it.
Create and manipulate a vast array of 3D content utilising a large collection of tools. You can rotate objects and even 2D designs along any axis, visualizing 3D transformations and translations as you author.
All this from a simple to use UI which promises to transform the way we design websites. Design it on screen using a wonderful array of tools and visual effects and simply publish what you see on the screen. Voila, one website. Exactly as you want it.
Will I Still Need a Web Developer?
Before we get too excited, Google's offering won't be able to do everything.  That much is a given, and it's not a threat on the surface when you compare it to what's achievable using Adobe's huge suite of web based tools, to give an example.  Even so, it's trying to cover as many bases as possible and promises to continue evolving to implement new core design modules as they are available.  So does this spell the end of the web developer?  Well, probably not.  The web designer?  Who knows?
Web Developers – good ones I mean – should offer much more than Google has to offer, initially at least.  Content management systems, customisable widgets and the like don't seem to be in Google's plans just yet, but these things could be just around the corner, as could Google+ integration, social commenting, Youtube integration, language translations, Analytics and much more.  They've already got the advertising bases well covered with adverts from DoubleClick Studio and AdMob ready to go.
And if like me you're actually a website programmer (the difference between a web developer and web programmer described here) there should definitely be no cause for concern.  If anything, Google Web Designer has opened more doors to clients who can only go "so far" with Google's tool and want the full user experience they see elsewhere.  It's also a huge opportunity for third party plugins if Google allows such a thing.
Google Web Designer Release Date
Google Web Designer is in Beta right now and available as a free download, with a release in early 2014 if reports are accurate.    It's a bold concept, and looks as though a lot of thought has gone into the idea, but only time will tell if it's going to end up in the Google graveyard with other failed projects such as Google Answers, Google Wave, Google Audio Ads, and Google Buzz.
Until that day however, if you fancy trying your hand at being a web designer it's never been easier to get into the game.
Find out more about Google Web Designer and download the Beta package here:  http://www.google.com/webdesigner/